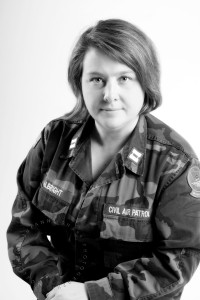 It is my privilege to serve as a member of the Civil Air Patrol, United States Air Force Auxiliary.
I currently serve as the Deputy Commander for Cadets and Professional Development Officer at the Anoka Composite Squadron in the Minnesota Wing.  I am also a member of the Cadet Programs team in the Minnesota Wing and have been a past commander of the Minnesota Leadership Academy.
As the Deputy Commander for Cadets, I am responsible for overseeing and executing the leadership development training for the cadets in our program.  I'm truly humbled to be able to watch the development of the world leaders of tomorrow.
Sometimes your crusades come out of left field.
My son got me hooked on the CW's Arrow starring Stephen Amell.
Stephen's a pretty good guy.  His mom had breast cancer so he and his buddy started Nocking Point Wines and one of their primary charities is F-Cancer.  What started as a simple operation has grown in so many directions and I'm happy to be an active part of the Amell Army.
My grandmother, father-in-law and mother-in-law each lost a battle with a different cancer.  This disease needs to be wiped off the face of the earth.