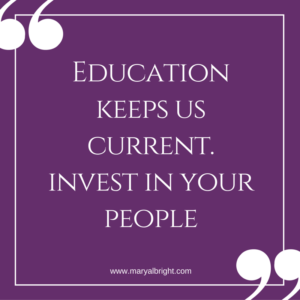 I've got two kids in college. Both are studying completely different topics.  Stefan is majoring in Human Resources and Organizational Development. Caitlin is creating an individualized program in Astrophysics, Earth Sciences and Leadership. And while both have the summer off, both are participating in different activities to keep themselves current in their interest areas.  Caitlin is doing research with a leadership institute.  Stefan is doing program and training development projects.
Neither one "needs" to do those specific things, but this is effectively continuing education developing their skills upward and onward.
Summer is a great time to slot in education and professional development.
Invest in yourself and your people. Take the time now to do some learning and have some fun as a team. Then when fall comes around in a couple months, you can finish out the year strong.
Is your fiscal budget year about to end and you've still got budget dollars you need to use by June 30?
Get started now by ordering Fascination Profile Assessments for the team.  Contact me directly to schedule your Team Engagement Session on a date that works for you.
Working on your 2016-2017 budget and interested in Fascination Team Engagement?
Let's talk. Team Engagement with me means it's interactive. Plus, sessions are always customized for your team's needs.
Here's to a fun, yet productive, summer season!